24 Watts UV Black Light LED Strip, 16.4FT/5M 3528 300LEDs 395nm-405nm Non-Waterproof Blacklight Night Fishing Implicitly Party with 12V 2A Power Supply
SKU
HK-KIT-24WF3528UV30-SI-W-12
24 Watts UV Black Light LED Strip, 16.4FT/5M 3528 300LEDs 395nm-405nm Non-Waterproof Blacklight Night Fishing Implicitly Party with 12V 2A Power Supply
*High Quality: 3528 SMD UV LED Light, wavelength is 395nm to 405nm,5M 300LEDs.
*Easy to Install: High intensity and reliability, long life to use; Every 3LEDs cuttable without damaging the rest strip; Self-adhesive back with adhesive tape for secure and easy application.
*Multifunction: It is perfect for night fishing. It not only can attract the fishes coming,but also can illuminate the fishing line; suitable for indoor artificial breeding.
*Can hook to 12V car battery: you can cut the cord it'll expose the positive and negative wires.
*Applications: Create stunning atmospheres at gigs or parties, works great with UV body paints and fluorescents. Ideal for Halloween parties, plays, events and gallery.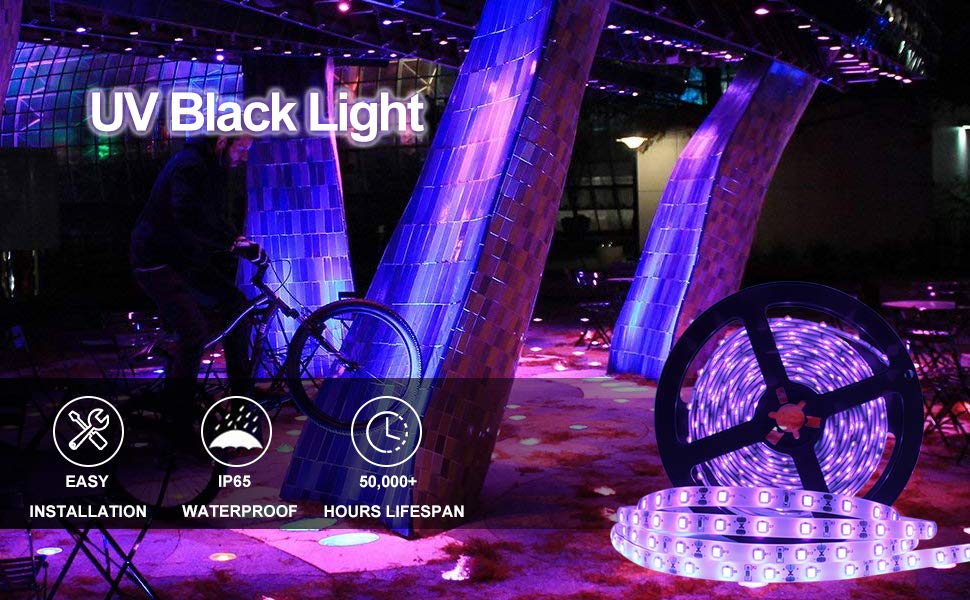 Features: The LED UV Blacklight strip creates special lighting effects which can be made fluorescent body paints and ink, cosmetics,balloons,candles,bubbles and wall stickers glow in the dark; Ideal for bands,dance,clubs,performance stage, theatrical productions,light show and DJ events etc.. This UV LED black strip is easy installation and portable, Idea choice for both interior and exterior decoration. Classic UVblack light effectstotally plug and play. Suitable for indoor artificial breeding,because its wavelength is 395-405nm. Ultraviolet light can test paper money and passport etc. It widely works great on shop windows, home, hotels, clubs decoration .

Specification:
Light strip length: 5 meter;
LED Quantity: 300leds;
Wavelength:395-405nm;
Input volts: DC12V 2A;
Power: 24W;
Viewing Angle : 120.
UPC Code:744702378738

Notice:
1.Do not stare at the light source.
2.Keep away from fire or other heat source.
3.Children under 16 years of age must use the product under supervision of an adult.
4.Due to its wavelength is 390-405nm , we can see the color is bluish violet or blue by the naked eye rather than violet.In fact,its reflection is purple.

Package includes: 1 x LED UV Black Lights Strip; 1 x 12V 2A Power Supply